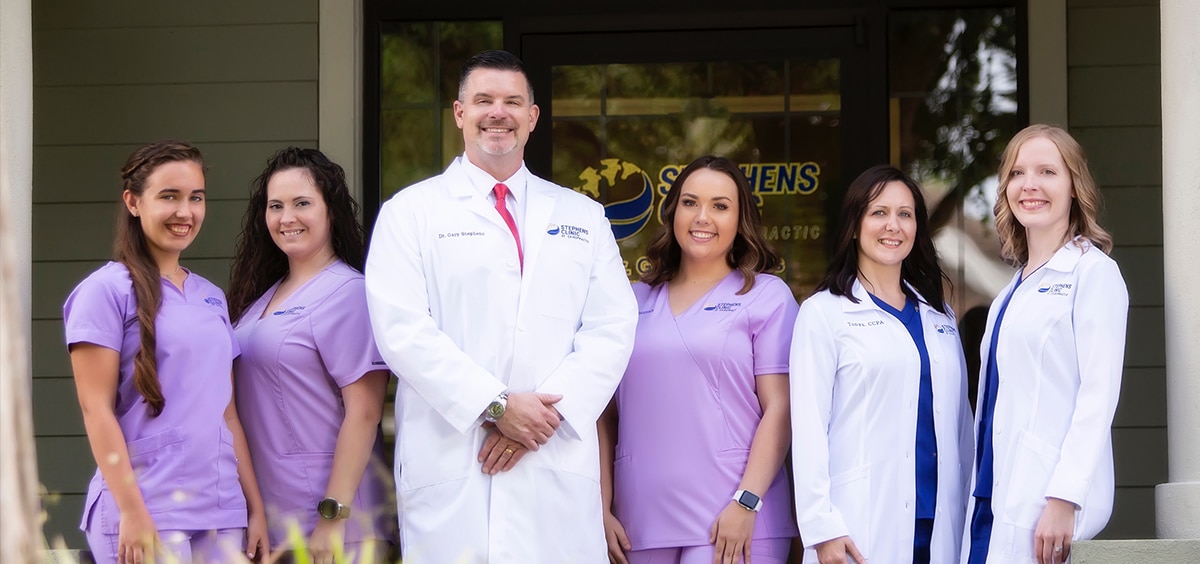 Natural healthcare that works!
Reviews for Stephens Chiropractic Clinic
Dr. Stephens is great, I have been coming to him for almost 4 months now. I threw my back out and he put me on a treatment plan and fixed not only the spot that hurt from throwing it out but he also went in and worked areas I didnt realize were part of the problem. Great Doctor that really cares about his patients. I would recommend him highly to anyone looking for chiropractic care.

Beckie Sotherden


3/28/2018

This was amazing place. The staff and the doctor are very friendly. Dr. Stephens is amazing and I can't believe he isn't about money but treatment and the health of his patients…

Louise Waters


5/02/2018

Dr. Gary changed my life. My wrist was devastated and I could barely work. His expert treatment and advice weren't easy, but dear Lord it was worth it. Professional, friendly, kind and incredibly knowledgeable.

Steve Blackburn


1/23/2019

I have been going to Stephens Chiropractic since maybe around 2002, that's at least 16 years that he has been helping my conditions!! I cannot go to just any chiropractor's office because I used to work for one and I have seen many bad practices there and at other offices. I fell off of a horse in 1997, so I need to be careful and I need to be aligned several times a year. Dr. Gary Stephens uses many techniques and modalities for nearly any condition. He has the right techniques to get me aligned and well in the fastest way possible and stronger than I was before, and his staff are the most amazing and caring people to assist in the process of therapies! I moved to Inverness about a year ago and I still drive all the way to Ocala for the Best Chiropractor around, in my opinion!! Thank you, Stephens Chiropractic for the best alignment of my life!

Linda Logue


8/20/2018

I highly recommend Stephens Chiropractric. Dr Stephens and his staff are professional, friendly and so accommodating. This place is not a doc in the box type of place. Dr Stephens cares about his patients and takes as much time as necessary to give you the treatment you need. I've had issues with my neck and knee that physical therapy didn't respond to. Upon the advice of a friend I tried Dr Stephens and he has been a miracle worker. It's been three years and for the most part I'm still pain free. If I have a flare up they work me into the schedule that day and when I completely forgot about an appointment, they didn't make me feel like a criminal when I called to reschedule. I wish more medical offices were like Stephens Chiropratic.

Sandi Andrews


5/21/2018

I went in to see Dr Stephens due to my back hurting all the time. I couldn't sleep at night due to the spasms I would get. He showed me different exercises I could do at home to improve my back. After a couple of visits I started to feel better. Now my pain is gone and I was able to complete a half marathon without any back pain. His staff is also very friendly!

Efren Vasquez


4/27/2018

The bad news for me is that I have been to a number of Chiropracters through the years. The good news is that when I found Dr Stephens I found someone who really knows what he is doing. He gets me up and going in half the time any other Dr. has ever done. Great Dr. Great office staff.

George Shelton


2/22/2018
Schedule an appointment today!
Do you have pain that won't get better or have you had a recent injury. We have a unique approach that is based on current research. Often with  fast and long lasting results.  Contact us today to schedule an appointment and start the path finding a solution We offer convenient hours and are located at 3235 S.W. 34th Street, Suite 102, Ocala, Florida 34474. 352-622-4555. call today "Let's get you better !"
Contact Us